Events Calendar
February 2023

| S | M | T | W | T | F | S |
| --- | --- | --- | --- | --- | --- | --- |
| | | | 1 | 2 | 3 | 4 |
| 5 | 6 | 7 | 8 | 9 | 10 | 11 |
| 12 | 13 | 14 | 15 | 16 | 17 | 18 |
| 19 | 20 | 21 | 22 | 23 | 24 | 25 |
| 26 | 27 | 28 | | | | |
March 2023

| S | M | T | W | T | F | S |
| --- | --- | --- | --- | --- | --- | --- |
| | | | 1 | 2 | 3 | 4 |
| 5 | 6 | 7 | 8 | 9 | 10 | 11 |
| 12 | 13 | 14 | 15 | 16 | 17 | 18 |
| 19 | 20 | 21 | 22 | 23 | 24 | 25 |
| 26 | 27 | 28 | 29 | 30 | 31 | |
April 2023

| S | M | T | W | T | F | S |
| --- | --- | --- | --- | --- | --- | --- |
| | | | | | | 1 |
| 2 | 3 | 4 | 5 | 6 | 7 | 8 |
| 9 | 10 | 11 | 12 | 13 | 14 | 15 |
| 16 | 17 | 18 | 19 | 20 | 21 | 22 |
| 23 | 24 | 25 | 26 | 27 | 28 | 29 |
| 30 | | | | | | |
May 2023

| S | M | T | W | T | F | S |
| --- | --- | --- | --- | --- | --- | --- |
| | 1 | 2 | 3 | 4 | 5 | 6 |
| 7 | 8 | 9 | 10 | 11 | 12 | 13 |
| 14 | 15 | 16 | 17 | 18 | 19 | 20 |
| 21 | 22 | 23 | 24 | 25 | 26 | 27 |
| 28 | 29 | 30 | 31 | | | |
June 2023

| S | M | T | W | T | F | S |
| --- | --- | --- | --- | --- | --- | --- |
| | | | | 1 | 2 | 3 |
| 4 | 5 | 6 | 7 | 8 | 9 | 10 |
| 11 | 12 | 13 | 14 | 15 | 16 | 17 |
| 18 | 19 | 20 | 21 | 22 | 23 | 24 |
| 25 | 26 | 27 | 28 | 29 | 30 | |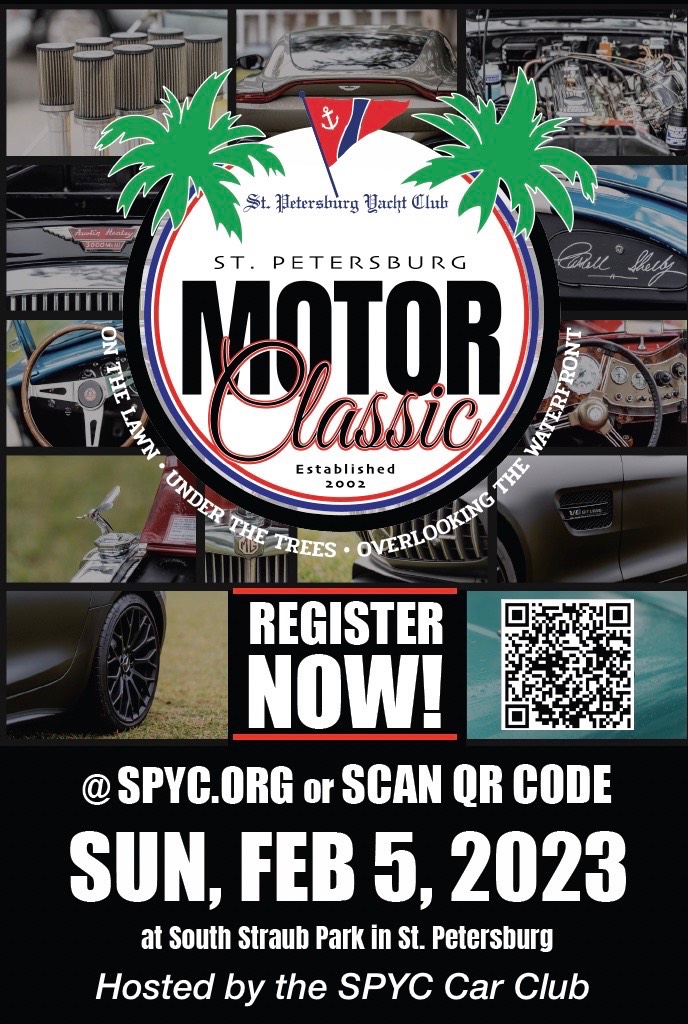 Location
South Straub Park, 11 Central Ave, St Petersburg, FL, USA
Date
February 05, 2023
St. Petersburg Yacht Club has made Morgan the featured marque at 2023's annual Motor Classic Car Show. MOGSouth and Gatormog are urging all Morgan owners with Morgans from 1909 through 2023 and all 3 and 4 wheelers to enter their Morgans and join a great gathering of cars and friends. Please note; the registration form on their website indicates that the cut-off year for cars is 1980. DO NOT pay any attention as any and all years of Morgans are welcome. Friday 2/3 and Saturday 2/4 activities are planned by the clubs, more information is on the MOGSouth website at www.MOGSouth.com
1 Members Attending this event ↵
Want to add yourself to the list of attendees?
Please Sign In — or Register a new account (it's free!)
event/2613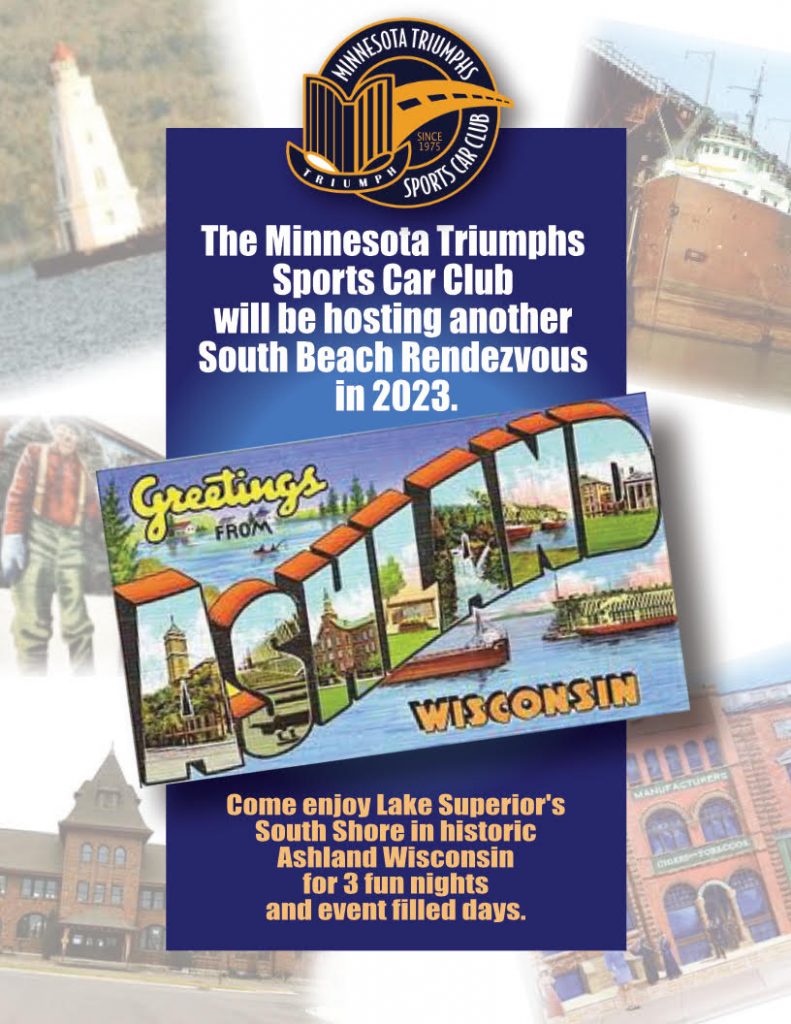 Location
101 Lake Shore Drive W, Ashland, WI, USA
Date
June 08, 2023
June 8-10, 2023, at Ashland, Wisconsin

MN Triumphs are the host club for the 2023 Rendezvous, an annual multi-marque gathering of clubs in the upper midwest and Canada.

Our host hotel is The Chequamegon Hotel, located right on the shore of Lake Superior. Book your room now by calling 715-682-9095.

The Cobblestone Inn and Suites (715-682-5066) is also giving us a block of rooms with a discounted rate.

For both hotels, be sure to mention that you're with the Vintage Sports Car Rendezvous event, otherwise you will be told they're full and you won't get a room.
4 Members Attending this event ↵
Want to add yourself to the list of attendees?
Please Sign In — or Register a new account (it's free!)
event/2611
Location
Salle Michel Berger, Rue Salvador Allende, Lumbres, Pas de Calais, France
Date
July 02, 2023
Annual gathering of all marques of Classic, Sport and Prestige vehicles.

A family day out with trade side shows, children's activities, food stalls and on site Restaurant.

Every year we have a themed event to promote a brand of vehicle manufacturer(s) by country.

Our AGM will be held in January - post this meeting more information will be available.

Our visitors are increasing every year, last year despite the fallout from the Covid restrictions we had an estimated 5000 visitors.

As we have no entry fee the auditing of visitors is based on other activities and customer returns from our stall and show exhibitors.
1 Members Attending this event ↵
Want to add yourself to the list of attendees?
Please Sign In — or Register a new account (it's free!)
event/2612